Riverboat Marina occupies over 26 acres of some of the most beautiful and natural landscape in the entire Delta area.  One horseshoe shaped island is inhabited by a multitude of native species and its huge cottonwood trees have created one of the largest rookeries for the great blue herons with over 100 nests.  Just to the west of this on Andrus Island is a heavily wooded area, planted with approximately 19 different species of trees and the home of hawks, owls and a multitude of native song birds.
FUTURE PLANS
Special projects planned for the wooded portion of the Marina include:
Nature Walk

A half mile trail created in the "look but don't touch" mode will meander through the 16 wooded acre parcel, allowing tenants, their guests and their pets to enjoy what nature has provided.  This trail will end up at the shores of the San Joaquin River, a place where you can sit on a bench, look westward across a near ocean-like view of the San Joaquin River, and perhaps even indulge in a glass of wine!

Cabins in the Woods

Six acres of the area have the opportunity to have a carefully planned park where 30 or more cabins can be placed.  In addition, a swimming pool will be constructed next to an outside picnic area, complete with a covered serving/dining area, stainless steel counters, sinks and tables.  Quality restroom facilities, horseshoe pits, fire pits, and nice lawn area will be included.  Several tenants see such a facility as a place to have guests stay while they visit them at the river.  It will be possible to hold special parties or even weddings in this area.
BENEFITS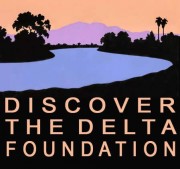 The owners of Riverboat Marina, Ken and Laura Scheidegger, are determined to " fight the fight" to improve the Delta's overall identity and future while at the same time helping people discover the Delta and realize why it is California's most important resource area.  They have created the
Discover the Delta Foundation (DTDF)
, a 501 (c) 3 nonprofit organization, and they are well on their way to gaining necessary support to build an Educational Center on five acres of land just to the east of the Rio Vista Bridge.  The Center is expected to have 1500 visitors per day and many believe it will be a Delta attraction much like the Monterey Bay Aquarium is to the Central California coastal area.
An integral part of the DTDF Project is sustainability and the creation of a team willing and able to support the Delta and its future.  DTDF created a Membership Card Program, and it involves Delta area businesses agreeing to support the DTDF Project by offering card holders discounts on the businesses services or products. Presently there are about 200 businesses and 1100 members,  and the goal is to have 400 businesses and 20,000 members by this time next year.  Each card costs $25, and its good for one year. 
Each new tenant at Riverboat Marina will be given a card. 
Click Here to Join the DTDF.

What's this mean in a financial sense?  More than you might realize.  For example, you'll receive 10% off the price of your dinner at Moore's Riverboat Restaurant; 50% off the haul out fee if you are a customer at Delta Boat Works; and various other discounts at the Marina businesses noted above.  Not long ago one couple wanted to renew their card asap. Why?  After buying their cards last year, they went to Abel Chevrolet to have a major repair done to their car (10% off a $800 bill was $80); went to Lira's Supermarket for groceries (5% off a $90 was $4.50), and then that evening went out to dinner at the Point Restaurant (10% off a $50 bill was $5).  Nice to save $89.50 with a DTDF card in one day!  This is a win-win-win situation, and you'll be joining a much needed Delta Project at a critical time.